Legal technologies (LegalTech or LawTech) are used by both in-house legal teams and by organisations with no legal function to save time and money and to reduce risk.
Most of the benefits of LegalTech centre around finishing high-volume work quickly and cost effectively, standardising processes and gaining a clear understanding of what is going on across an organisation's legal landscape.
These tools do not replace lawyers. The idea, though, is that lawyers can focus their time on tasks that require their highly developed skillset, which is in everybody's best interest.
The remainder of this post is an excerpt from our comprehensive white paper, "A guide to legal technology use cases: 8 game-changing use cases for deploying legal technologies".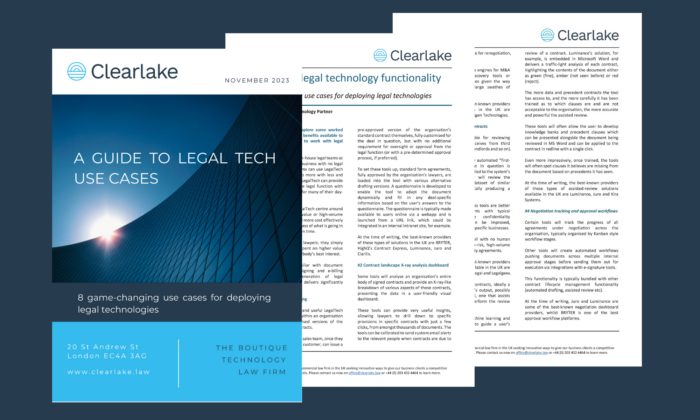 #1 "Self-serve" contract drafting
One of the most common and useful LegalTech tools enables non-lawyers within an organisation to "self-serve" to issue customised versions of their organisation's standard contracts.
For example, a member of a sales team can draft and send out a pre-approved version of the organisation's standard sales contract themselves, fully customised for the deal in question, with guidance provided within the tool and with no additional oversight from the legal function.
At the time of writing, the best-known providers of these types of solutions in the UK are BRYTER, HighQ's Contract Express, Luminance, Juro and Clarilis.
#2 Workflows and process automation
Process automation applications, often called "workflows", guide a user through a standard process, guide an information search or perform some or all of a standard process automatically. These are some of the most powerful tools deployed.
Examples of typical workflows include: a step-by-step guide for a member of a procurement team to go through the process of comprehensive vendor due diligence checks; an automated employee onboarding workflow to support an HR team; or a nuanced and detailed FAQ tool guiding users through multi-stage frequently asked legal questions with no input required from a lawyer.
At the time of writing, the best-known and most powerful standalone platforms for building and hosting these types of workflows and process automations are BRYTER and Checkbox. Other broader contract lifecycle solutions that include process automation technology include Luminance and HighQ from Thomson Reuters.
#3 Legal research, drafting and content creation
Generative AI promises to help users carry out a whole host of legal tasks, including finding answers to legal questions, creating first drafts of legal memos and tracking regulatory changes, to name just a few, but significant challenges remain across a host of shortfalls.
As Generative AI models start to be trained on specialist and proprietary legal data sets, however, the results are becoming significantly more reliable than the internet-trained models we all know.
Some legal-specific products have already been brought to market, including Harvey AI (backed by Open AI and therefore ultimately by Microsoft). Lexis Nexis is soon to release Lexis+ AI into the UK (a GenAI tool trained on the colossal Lexis Nexis dataset). Thomson Reuters is soon to release a Gen AI add-in to Microsoft's Co-pilot (Microsoft's own integrated Gen AI tool) which we assume will be trained on the enormous Practical Law and Westlaw data sets.
#4 Automated reviews of third-party contracts
Some tools, trained by a large dataset of documents, will provide a fully automated "first-pass" review of contracts received from third parties, producing a traditional redline mark-up.
These tools can work well, in the right context, without human supervision for low-value, low-risk, high-volume contracts, such as confidentiality agreements. Some of these tools also offer an outsourced human sense-check before the mark-up is delivered.
At the time of writing, the best-known providers of these types of solutions available in the UK are Lexcheck, Superlegal and Lawgeex.
#5 AI assistance for lawyers reviewing contracts
For higher value, higher risk contracts, ideally a lawyer would review the tool's output, possibly using a different type of tool, one that assists review rather than tries to perform the review itself.
Luminance's solution, for example, is embedded in Microsoft Word and delivers a traffic-light analysis of each contract, highlighting the contents of the document either as green (fine), amber (not seen before) or red (reject), presenting drafting notes, negotiation points and alternative clauses alongside the document under review.
At the time of writing, the best-known providers of these types of assisted-review solutions available in the UK are ThoughtRiver, Luminance, Juro, ContractPodAI and Kira Systems.
#6 Contract repositories and analysis dashboards
Some tools will store and analyse an organisation's entire body of contracts and provide an X-ray-like breakdown of those contracts, presenting the data in a user-friendly visual dashboard.
These tools allow lawyers to drill down to specific provisions in existing contracts with just a few clicks and can send custom email alerts when contracts are due to renew or expire. Some will extract data from those contracts and store it to databases for use in other applications.
At the time of writing, the best-known providers of these types of solutions in the UK are Luminance, Kira Systems, ContractPodAI and Eigen Technologies.
#7 Sifting through unstructured data at scale
Using similar technology to the smart contract repositories, e-Discovery tools provide single, easy-to-use interfaces for sifting through huge volumes of unstructured data (emails, documents, WhatsApp messages, contracts, call transcripts) stored on any devices.
Typical use cases include M&A due diligence, litigation disclosure/discovery exercises and regulatory compliance investigations.
At the time of writing, some of the best-known providers in the UK are currently Luminance, Relativity/Altlaw, Eigen Technologies, Nuix Discovery and Reveal Data.
#8 Organisation-wide negotiation tracking
Certain tools will track the progress of agreements under negotiation across an organisation, typically organised by Kanban style workflow stages.
This functionality is typically bundled with other contract lifecycle management functionality (automated drafting, assisted review etc).
At the time of writing, ThoughtRiver, Juro, ContractPodAI and Luminance are some of the best-known negotiation dashboard providers.
Conclusion
The best outcomes are normally gained by combining carefully chosen technologies in a way that mirrors the core requirements of an organisation.
The cleanest solutions normally combine just one or two multi-purpose solutions that cover most of an organisation's requirements.
For guidance on buying LegalTech, read our blog post here on how to avoid the most common pitfalls when procuring legal technologies.
This post is an excerpt from our White Paper, "A guide to legal technology use cases: 8 game-changing use cases for deploying legal technologies".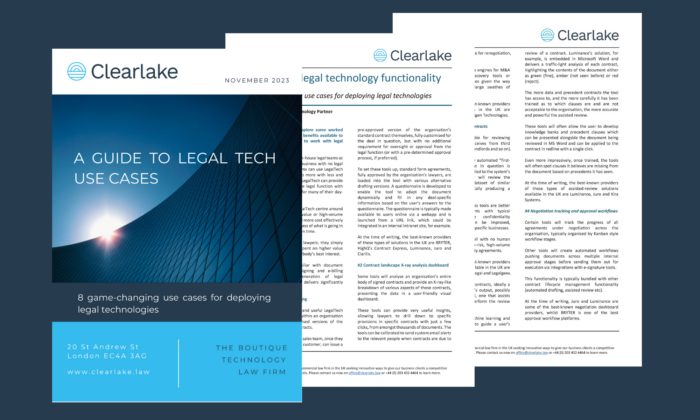 About Clearlake
We are a new generation of law firm putting legal technologies at the heart of everything we do, with the promise of delivering premium legal services at significantly better value.
We advise on specific technologies for specific problems and we provide access to carefully chosen, enterprise-grade tools with full supervision and support.
To find out more about how we can support your organisation's digital transformation, please contact us on enquiries@clearlake.law or call us on 0203 432 4464.